This Is the Best Haunted House in Your State
Spooky!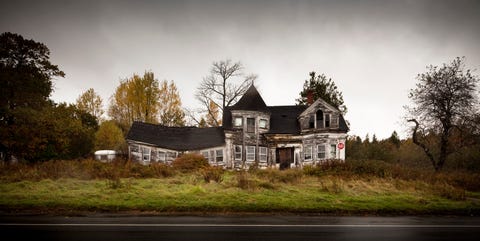 Alabama
In addition to the 50,000-square-foot haunted attraction, you'll also have a chance to meet actors from popular horror flicks at the Atrox Factory in Leeds. This year's appearances include Erika Ervin from American Horror Story and Martin Klebba from Pirates of the Caribbean.
Alaska
The entrance alone to the Gateway to Darkness in Wasilla is a harrowing experience. You're forced to wedge yourself through a tiny slit between two large inflatable walls for what feels like a solid 15 feet before seeing what awaits you at the end of the tunnel.
Arizona
The 13th Floor Haunted House in Phoenix is not one, but two scary attractions. In Zombie Land: Biohazard, you have to try and escape zombies, and in Ancient Evil you might stumble across a mummy or two.
California
Reign of Terror Haunted House is a 100-room haunt in Southern California featuring eight terrifying attractions. They're all connected, so when you're done with one room, you immediately move onto the next.
Colorado
Reapers Hollow in Parker tests your bravery by having you trek through a half-mile cornfield and woods before entering a dimly-lit shack with shadowy figures lurking in the window.
Connecticut
There are three scary attractions at the Dark Manor in the town of Baltic, including The Graveyard and The Catacombs. But the freakiest one of all is The Manor, which is staged inside an abandoned schoolhouse.
Delaware
Frightland in Middletown has been named one of the Top Ten Scariest Haunted Attractions in America by the Travel Channel, and for good reason. There are eight highlights, including a hayride, a haunted barn, and woods filled with ghoulish delights.
Florida
The House of Horror Haunted Carnival in Doral boasts five blood-curdling attractions like Gates of Phobia, a 3D experience that promises to "lose your reality." There's also The Hellzapoppin, a stunt show mixed with a rock 'n' roll circus.
Georgia
The props and settings are a little too realistic at the Netherworld Haunted House in Norcross. The creators paid attention to high-tech lighting, sound, and animatronics, making you question if what you're seeing — like monsters, zombies, and ghosts — are real or fake.
Hawaii
Actors jumping out at you, flashing lights, fog: Scare Hawaii in Kaneohe has all the makings of a classic haunted house in paradise. It also claims to bring your deepest, darkest "fears back to the surface."
Idaho
Not only is the Lost Souls Attractions in Shelley an awesome haunted house with two attractions — The Theatre of the Lost Souls and the Hospital of the Lost Souls — but it's reportedly actually haunted, according to some. Visitors and staff have reported seeing dark shadows, the ghosts of a little girl in white, an old lady sitting in a chair, and a tall man with a beard who aren't part of the entertainment.
Illinois
Legend has it that in the 1960s, the largest laundry company in Aurora had a boiler explosion, and injured employees have sought revenge on the Basement of the Dead Haunted House Aurora.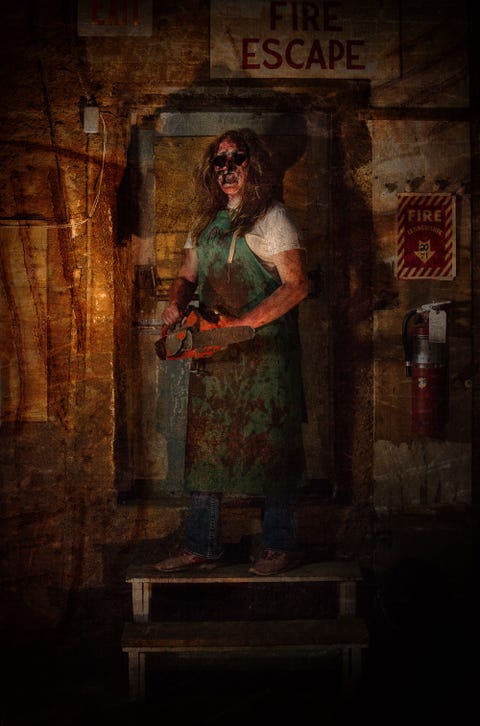 Indiana
Once home to the Batesville Coffin Company, the Fear Factory in Batesville is 30,000 feet of horror-filled exhibits and mazes.
Art by Anjali Fong and Jen Saner
FACEBOOK
ANJALI FONG/JEN SANER
Iowa
At Scream Acres in Atkins, see if you can get out of the mile-long haunted maze in The Cornfield. There's also the Carnival, which features a 2,800-square-foot carnival-themed indoor haunt with It-like clowns and a not-so-fun house.
Kansas
The Field of Screams in Maize takes place on the grounds of where the supposed "vigilante murders" took place involving the Spurlock family. The cornfield is said to still be haunted, but creators have upped the ante by adding trenches and tunnels to maneuver through. If you make it, Clown Town 3D awaits with scary clowns, mazes, and 3D effects.
Kentucky
Skeleton's Lair in Scottsville is five haunted houses in one. There's a self-guided walking tour through the Haunted Woods, where you may see a Medieval-like execution; the two-story Haunted House of Wax, with life-size wax figures of famous characters like Freddy Kruger; and the ultimate freaky attraction: The Doomsday Doll Factory, where toys come to life.
Louisiana
13th Gate Haunted House in Baton Rouge comes with a warning that not everyone can handle the terror. That terror may include being lost in a dark tunnel and standing on a bridge over hundreds of live snakes.
Maine
Destination Haunt in Lebanon takes you on a haunted trail where you encounter cemeteries, evil clowns, and more.
Maryland
The nightmare-inducing attractions at Legends of the Fog in Aberdeen includes zombies, a haunted hayride, a creepy circus, and a corn maze.
Massachusetts
You'll pop in and out of run-down buildings at the Fear Town Haunted House in Seekonk, where you'll encounter monsters and ghosts in hiding.
Michigan
The Erebus haunted house in Pontiac is based on the legend that Dr. J. Colbert built the world's first working time machine in the area, but that it malfunctioned and instead attacked those who tried to use it. Get ready for things to bite, grab, and even fly at you.
Minnesota
Are you afraid of the dark? Try walking through woods with nothing but a lantern or interacting with clowns and the Circus Asylum at Scream Town in Chaska.
Mississippi
Tupelo Haunted Castle has four different haunted paths, from "The Haunted Castle" itself to "Lost in the Darkness." There's even a haunt that can only be completed by a single person at a time and requires participants to sign a waiver first.
Missouri
The Beast in Kansas City takes a full 40 minutes to walk through. During that time, you'll wander through mazes, tread carefully through a three-story light tower, and try to survive the Werewolf Forest, where you have to find the exit in total darkness.
Montana
You'll encounter zombie-filled graveyards and "clown-infested playgrounds" through the three-acre cornfield at Field of Screams in Victor.
Nebraska
You can actually spend the night at Camp Fear in Elkhorn, but if you're not up for a spooky sleepover, the attraction also has options like the interactive Toxic Haunt, where you try to kill zombies.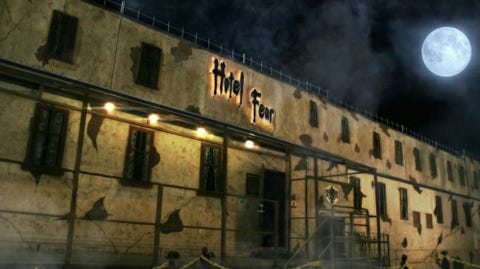 Nevada
The Asylum & Hotel Fear has true Las Vegas flair. You move between two haunted houses following a murderous plot that takes place in a hotel with traps and hidden doors.
New Hampshire
You'll not only want to look behind you at the Haunted Overload in Lee, but up as well. A number of the spooky spectacles, like a 34-foot monster, actually loom above you.
New Jersey
If you think you can hide behind your pal at the Bane Haunted House in Livingston, think again. Each visitor is separated from his or her partner upon entry, and only two people are allowed in at a time — meaning you'll squeeze through crevices and navigate obstacles with a total stranger.